Ip.com, I LLC with the HQ in Fairport, NY, United States offers the most comprehensive, intuitive and powerful patent search software in the industry.
The goal is to make it easier for organizations the R&D accelleration and to enable the rapid evaluation of Intellectual Property.

InnovationQ Plus powered by IP.com is a powerful platform and cognitive search engine that enables organizations to concurrently and cognitively query IEEE and relevant innovation content.
The depth of resources, the speed of the cognitive retrieval engine, and the world-class analytics are a powerful combination.
InnovationQ Plus allows users to determine patent strengths and weaknesses, make legal assessments, and leverage IP "Intellectual Property" business intelligence to support critical portfolio management decisions.
Indexing the full text of these IEEE publications alongside the most comprehensive global patent literature database available gives you a single, integrated solution that accelerates discovery of key insights and time to market. IEEE publications are critical to the patent process—IEEE is cited in patents 3 times more than any other publisher by top patenting firms.
InnovationQ Plus Strenghts
Identify prior art
Determine patentability
Gain understanding of patent clearance/freedom to operate
Identify industry activity and discover opportunities
Assess competitive positioning and threats
Discover partnerships/licensing opportunities
Analyze your IP's "Intellectual Property" positioning in the market
Optimize R&D operations
Browse IEEE Xplore  to access full text documents for your further review *
**In InnovationQ Plus platform all metadata of IEEE scientific literature have been indexed and a link from each article of IEEE Journals, Conferences and Standards has been created.
However, the full text of the articles is accessible only through a separate subscription to IEEE Xplore Digital Library.
Download the Brochure
1- The importance of the semantic research by Innovation Plus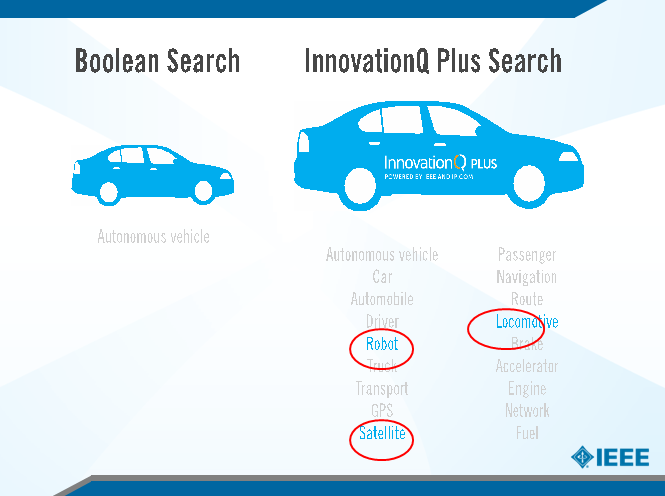 For example, if you search for "autonomous vehicle" a Boolean system would capture all results related to "cars" and "automobiles." InnovationQ Plus gives your customers a tool that can be used by everyone in their organizations, without a lot of training. It's the "Easy" button of IP search.
But that's just how you ask the question. What about the answers? Except the obvious and unnecessary difficulty to query, the traditional Boolean searches use keywords to match phrases on a given page.
They don't take care of the context and they aren't able to identify the key concepts without an exact match to the search input. That means that there are too many unreturned results in your research.
With InnovationQ Plus you get more accurate and comprehensive search results, ever had to date.
2 – Direct access to over 120 million worldwide patents and non-patent content as the IEEE literature
3 – This Semantic Map provides users with a visual representation of critical documents based on concepts and meaning extracted from their content to easily and quickly find the relevant content.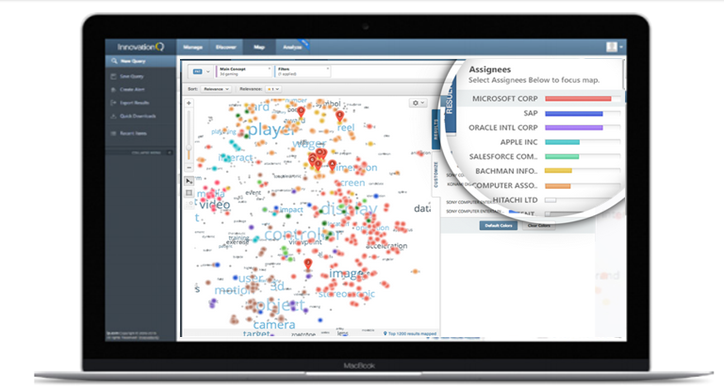 This is the image of the InnovationQ Plus that appears in "research by map " button will allow users to easily visualize all IP connections that are matched up with the sophisticated intellectual property.
A large word means a greater number of results.
This tool is all interactive, clickable and easy to navigate.
The view of IP relationships allows your customers to find whitespace in the marketplace, to see exactly in what their competitors are working, to find more licensing and acquisitions opportunities and to discover the IP connections they might never have expected.
4 – The best allied for your Business Intelligence activity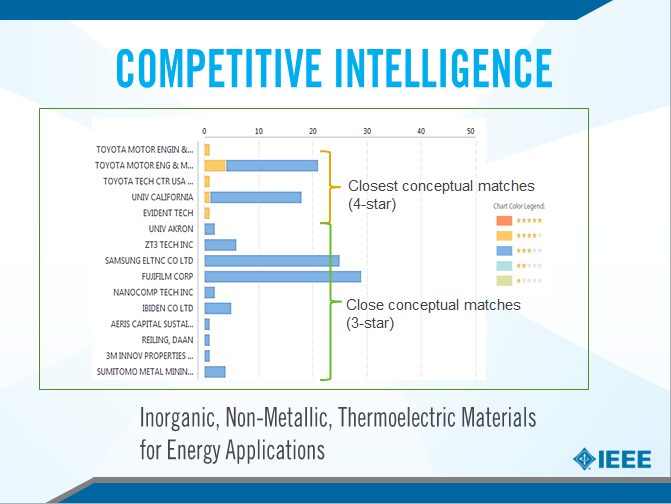 REQUEST A FREE TRIAL OF IP.COM PLATFORM FOR YOUR ORGANIZATION