SAE Society of Automotive Engineers
Standards, Technical papers, ejournals, emagazines  and ebook
SAE International is a global association of more than 128,000 engineers and related technical experts in the aerospace, automotive and commercial-vehicle industries. SAE International's core competencies are life-long learning and voluntary consensus standards development. SAE International's charitable arm is the SAE Foundation, which supports many programs, including A World In Motion® and the Collegiate Design Series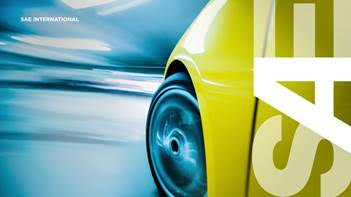 Mission Statement
Founded in 1905, SAE International is a global body of scientists, engineers, and practitioners that advances self-propelled vehicle and system knowledge in a neutral forum for the benefit of society.
Visione
SAE International is the leader in connecting and educating engineers while promoting, developing and advancing aerospace, commercial vehicle and automotive engineering.
SAE Content

I contenuti di SAE International, disponibili attraverso la biblioteca digitale SAE Mobilus, riguardano i Documenti Tecnici "Technical Paper"s dove SAE è leader del settore, Nome tecniche "Standard", ebook, emagazine che coprono tutti gli aspetti del settore aerospaziale, automobilistico e veicoli commerciali di ingegneria.
SAE Base Digital Library Technical Papers
Providing access to SAE's Technical Papers from 1998 to present and comprising approximately 42,000+ Technical Papers (Includes Journal Articles 2008-Present)
SAE Base Digital Library Technical Papers plus Backfile
Fornisce l'accesso ai documenti tecnici del SAE dal 1998 ad oggi, più i SAE Technical Papers backfile dal 1906 al 1997. Circa 125,000 Technical Papers.
Backfile A (1990 – 1997)
Backfile B (1980 – 1989)
Backfile C (1964 – 1979)
Backfile D (1906 – 1963)
SAE Standards – comprende:
Aerospace Material Standards (AMS)
Aerospace Standards (AS) (Includes TechAmerica, AIR, ARP)
Ground Vehicle Standards (J-Reports)
Historical Aerospace Material Standards
Historical Aerospace Standards
Historical Ground Vehicle Standards (J-Reports)
SAE ITC Engine & Airframe Standards (Current & Historical)
SAE 2D/3D CAD Models Aerospace Standards
SAE eBooks
 170+ eBook titles
Automotive Engineering International (AEI)
Aerospace Engineering (AE)
SAE Off-Highway Engineering (SOHE)
Complete Collection (180+ Titles)
Technology Specific Bundle
Custom Created Bundle
CMH-17 Series
eMagazines
Automotive Engineering
Aerospace & Defense Technology
Off-Highway Engineering
Coming Soon!
Online Training
Spotlight on Design Videos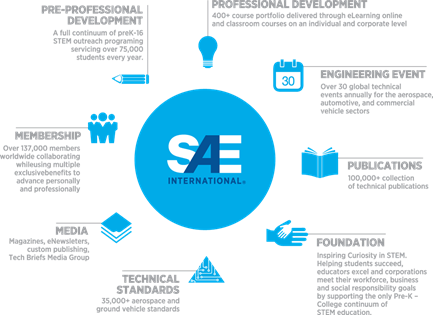 HELPING ENGINEERS WORLDWIDE STAY AHEADOF THEIR COMPETITION
Explore, access, and share more than 200,000 current and historical Standards, Technical Papers, eBooks, and Magazines – each delivered through the SAE Mobilus™ platform. Flexible and targeted subscription options provide academics, executives, and engineers the content they need, where and when they need it.
Designed for Engineers by Engineers
Designed using direct feedback from customers in academia and industry, SAE Mobilus™ offers features and functionality that help both groups find and manage important industry information.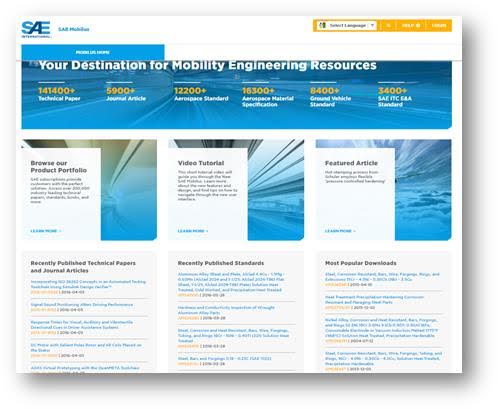 BENEFITS
Streamline and target your search with a simple, efficient interface
One click cross-referencing
Host of sharing and collaboration tools
Cost-effective plans to meet your usage requirement
Updated daily with new content
Search all SAE meta data
FEATURES:
Full text search
Individual user registration
Administrator reporting portal
Multi-language interface
Online viewable documents
Annotations
Saved Searches
Favorites
Tutorials
SAE MOBILUS VIDEO TUTORIALS
SAE Mobilus  (User registration, Search,  Navigation, Annotation)
SAE Mobilus  (Favorites, Alerts, Content Changes Dynamic Display)
SAE Mobilus (Image Dynamic Display 2D/3D)
SAE MOBILUS Help Resources
REQUEST A FREE TRIAL OF THE  SAE MOBILUS FOR YOUR ORGANIZATION